Click on the tabs above for some deals.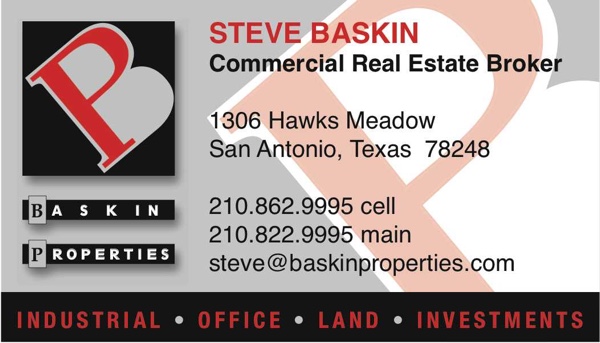 News
: I am looking to represent your warehouse buildings and office properties. I want to sell your building. Call me.
I would like to thank the following businesses for their recent transactions.

Evergreen Exhibitions bought a 24,000 square foot warehouse for their exhibit business

I represented the Gunn Auto Group in selling their excess land on IH-35 and Weidner Road.

I also represented Gunn Auto Group in their purchase of a future site on Loop 1604

I continue an ongoing assignment with Xenex Healthcare Services who leased two additional suites totaling 8,000 square feet

I also do real estate consulting with Chacho's Mexican Food and Chacho's Chicken

Please call Steve Baskin at (210) 822-9995 with your commercial real estate questions. If you would like to email me, click on the "contact me" button at the bottom of the page.

Baskin Properties was established by Steve Baskin in 1988. I represent both Tenants and Landlords. I would like to sell or lease your building, call me.